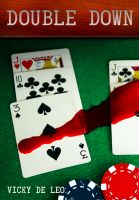 My friend and fellow writing group member Vicki De Leo has recently published Double Down.  I was happy to have played a very small part in her writing process by throwing in my two cents during our group readings.  Here is the description.
Valerie Peterson, Director of Human Resources for the Royal Hotel and Casino in Las Vegas, is called back to work one night when security finds one of her employees murdered in her office. She discovers that before she died, the woman she knew as Monica, managed to institute a blackmail scheme in which she implicated Valerie as a co-conspirator.
While her career spirals out of control, her love life heats up. Still bruised from a disastrous first marriage, Valerie finds herself torn between the safety and comfort she feels in one man's arms and the passion she feels for another.
When her home is burglarized, and her life threatened, she must accept that someone thinks she knows something worth killing for, possibly someone she works with every day, forcing her to reexamine the motives of everyone around her.
To complicate the matter further, the police arrest the one person Valerie is sure couldn't have committed the murder. Her job and her life in jeopardy, Valerie decides to dig into Monica's past hoping to find some clue to unmask the real killer.